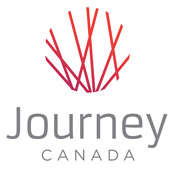 Journey Discipleship Course
WHAT IS THE JOURNEY DISCIPLESHIP COURSE?
The JOURNEY DISCIPLESHIP COURSE provides a safe place for people to talk about their lives and receive the love and support of God and others. Each evening consists of worship, teaching, and small groups. These confidential, gender-specific groups incorporate prayer and mutual support with the goal of helping individuals experience a deeper relationship with Jesus. There are weekly reading assignments for reflection, study, and prayer.
---
WHO CAN ATTEND?
This course is for anyone willing to be open with others about their life, and who desires to deepen their relationship with Jesus. All of us have a need for love and connection – with God and with other people. Journey is for people ready to take the next step in intimacy with God and connection to brothers and sisters in Christ.
---
WHAT IS THE COURSE CONTENT?
KNOWING LOVE REVEALED
• An Introduction to the Journey Discipleship Course
• Admitting Our Need and Shame
• Recognizing Our Need for Love and Affirmation
• Experiencing Jesus and the Cross
• Realigning Our Will and Dismantling Our Altars
LIVING THROUGH RECONCILIATION
• Forgiveness
• The Healing of Women
• The Healing of Men
DISCOVERING BROKENNESS
• Breaking the Cycle of Addiction
• Setting Boundaries
• Gender and Identity
• Understanding Abuse
LEARNING TO LOVE WELL
• Finding Christ in Community
• Healthy Friendships
• Journeying Into Adulthood
---
WHAT ARE THE PARTICULARS?
Location: Online using Zoom
Date: January 24 – May 16 2021
Time: Sundays, 6:30 – 9:15pm
Cost: $325, which includes a non-refundable $25 application fee
Details: We will not be meeting on Easter long weekend and will meet on 1 Tuesday night in April to make it up, date TBD
---
HOW CAN I APPLY?
Email glen@journeycanada.org to request an application for the Ontario Journey Discipleship Course. Apply early because space is limited.
Applications will be kept strictly confidential and are reviewed on a first come first served basis.
For more information, please contact Glen